Brand Name: 

iMice

Origin: 

Mainland China

Application: 

Laptop

Feature 1: 

laptop stand, Support laptop, Laptop bracket, Notebook stand

Feature 2: 

notebook support, Laptop holder, MacBook stand, Stand, portable support, laptop accessories, Laptop holder aluminum

Feature 3: 

Laptop base, Laptop computer stand, computer support, portable laptop stand, aluminum notebook support

Feature 4: 

MacBook holder, support pc portable, Stand for laptop, base for laptop

Feature 5: 

laptop stand aluminum, pc support, MacBook Air accessories, MacBook accessories, support portable

Feature 6: 

notebook base, desk notebook stand, base laptop, aluminum laptop stand, support pc, Portable base

Feature 7: 

For laptops, support MacBook, notebook holder, computer bracket, laptop stand

Feature 8: 

computer accessories, MacBook support, foldable laptop stand
Portable Aluminum Laptop Stand: Enhance Your Workspace Comfort
【More angles mean more comfort 】
We provide you with more height options than other laptop stands; our laptop lifting table can be adjusted to 6 different heights, so you can always find a comfortable position.

Stable And Not Collapse
Scientific triangle design, stable and no shaking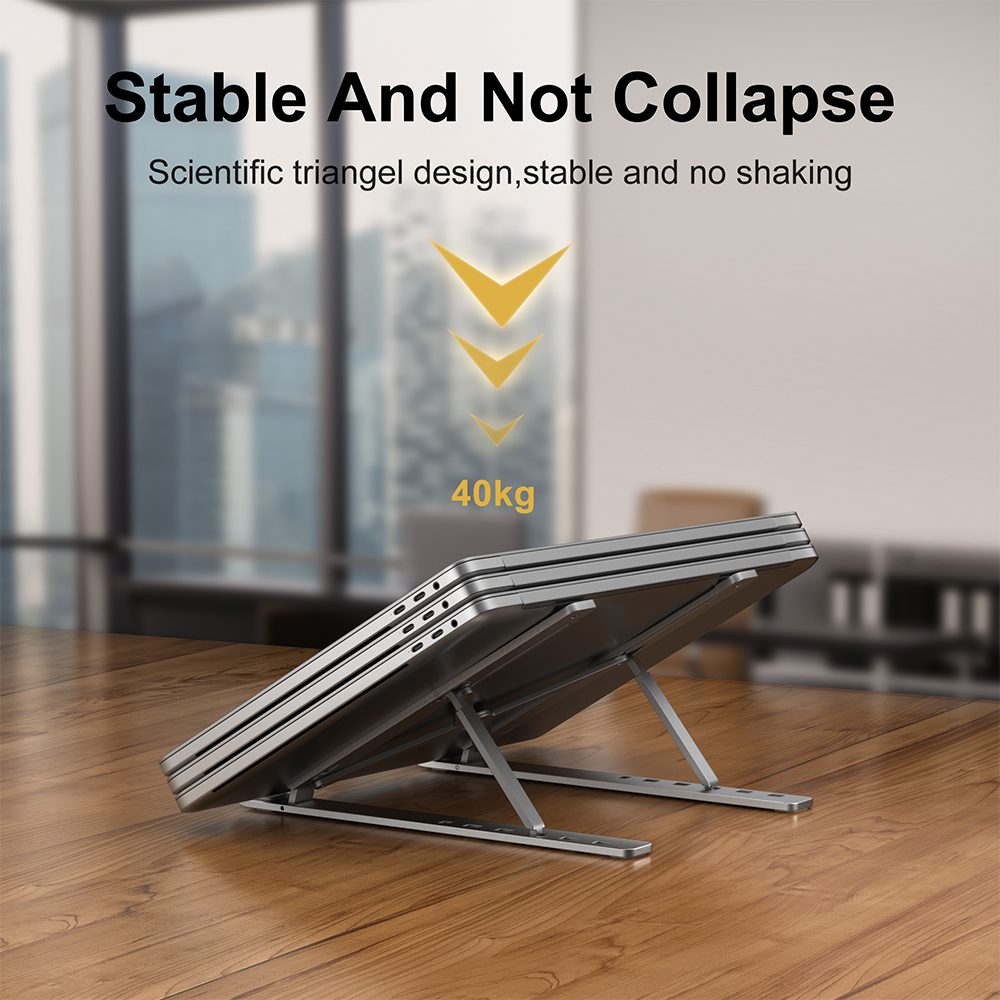 Sturdy and Durable, but also very Portable
The height-adjustable laptop lifter can hold 10-15.6 inches of laptops, books, and tablets, and weighs no more than 88 pounds; when not in use or when you are on the road, it can be folded into a 1.69 x 10.11 x 0.31-inch Portable size, so you can throw it in your bag, purse or accompanying handbag.
Hollow colling Design
Increase airflow and dissipate heat quickly
Considerate Details
Aluminum Body, Smooth edge, Sburdy & Anti-Slip
We are proud of product quality
Each height-adjustable laptop stand comes with a 1-year replacement warranty; if it breaks or wears out, we will immediately send you another one by email; you don't even need to tell us what happened.
Easy To Install And Carry
Small size and folding design, easy storage.
FREE Shipping
Order Now to Avail Free Shipping Offer..!!