Voice assistant built-in: 

no

Bluetooth-compatible Version: 

4.0

Metrics measured: 

Other

Activity Tracked: 

other, Steps Tracker

Category: 

Smart Watches

Waterproof Grade: 

Life Waterproof

SIM Card Available: 

No

Mechanism: 

No

Multiple Dials: 

Yes

GPS: 

Yes

Network Mode: 

None

Battery Capacity: 

<120mAh

Rear Camera: 

None

RAM: 

128MB

ROM: 

512MB

System: 

Android Wear, Android OS, IOS

Type: 

On Wrist

Compatibility: 

All Compatible

Language: 

English, Russian, Spanish, Polish, Portuguese, Turkish, ITALIAN, French, German, Korean, Japanese, Ukrainian, Hebrew, Dutch, Arabic, Indonesian, Greek

Function: 

Passometer, fitness tracker, Message Reminder, Call Reminder, Interactive Music

Brand Name: 

YP

Origin: 

Mainland China
Please charge the device before use when it is received. 1-2 hours
Detailed description:
CPU: PHY6222
Bluetooth BLE: 4.0
LCD: 1.44″, IPS,128*128Pixel
Touch: Point touch
Battery: 50/90mah
Standby time: 75H
Charge: USB Charging
Waterproof: Not waterproof
Material: Plastic
Color: Black, red, blue, green, pink
Language: English, Simplified Chinese, Dutch, Russian, French, German, Portugal, Spain, Turkey, Poland, Malaysia, Czech Republic, Slovakia
APP: Fithere
Function: Dial Setting: 
Steps:
Distance:
Calorie:
Sleep Monitoring:
Sedentary Reminder:
Heart Rate:
Blood Pressure:
Blood Oxygen:
Multi-sport mode(Running, skipping, sit-ups)
Message Reminder (QQ, WeChat, Facebook, WhatsApp, Line, Twitter, Instagram)
Call Reminder
SMS notification
Alarm clock
Remote Photography
Looking for Bracelet
Looking for Phone
Turn the wrist and shine the screen
Size;43*35.8*13.2mm
NW 14.3g
Package includes
Manual
Package size: 81*123*29mm
Package Included:
1* smart bracelet
1* user manual
Note:
Wearable devices monitor human activities through electronic sensors, and they are at the consumer electronics level. It's normal for certain deviations. The user should treat data objectively.
Please do not compare to hospital equipment for reading, it is NOT a medical device!
Before using, scan the QR code on the manual to download the app and connect it to the watch APP.
For Android users: Please always authorize Fitpro access to all phone functions and always let it operate. and please turn on the GPS on your phone before you connect it.
Please charge the device before use when it is received. 1-2 hours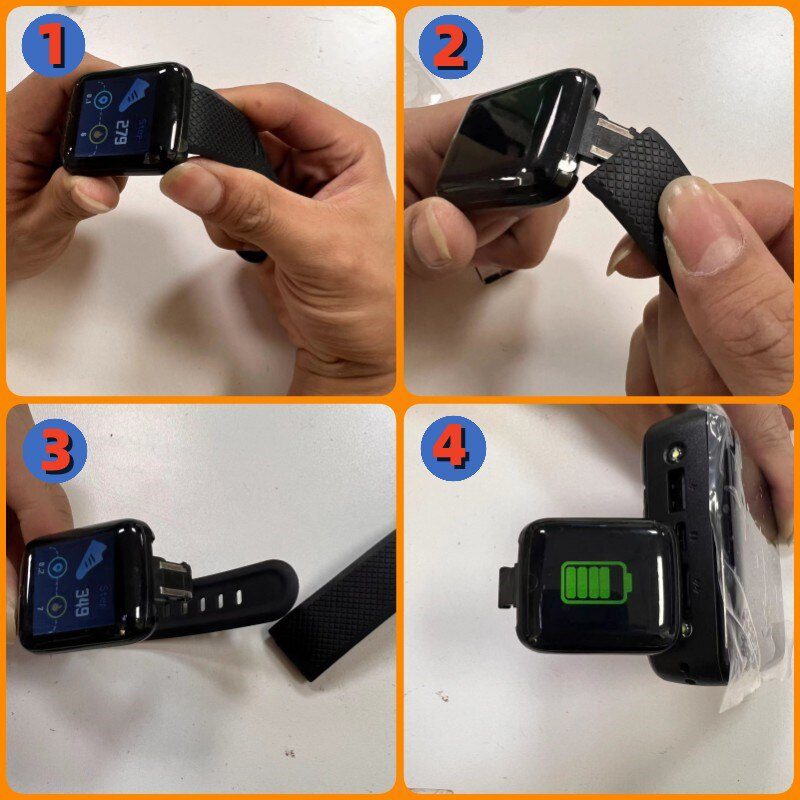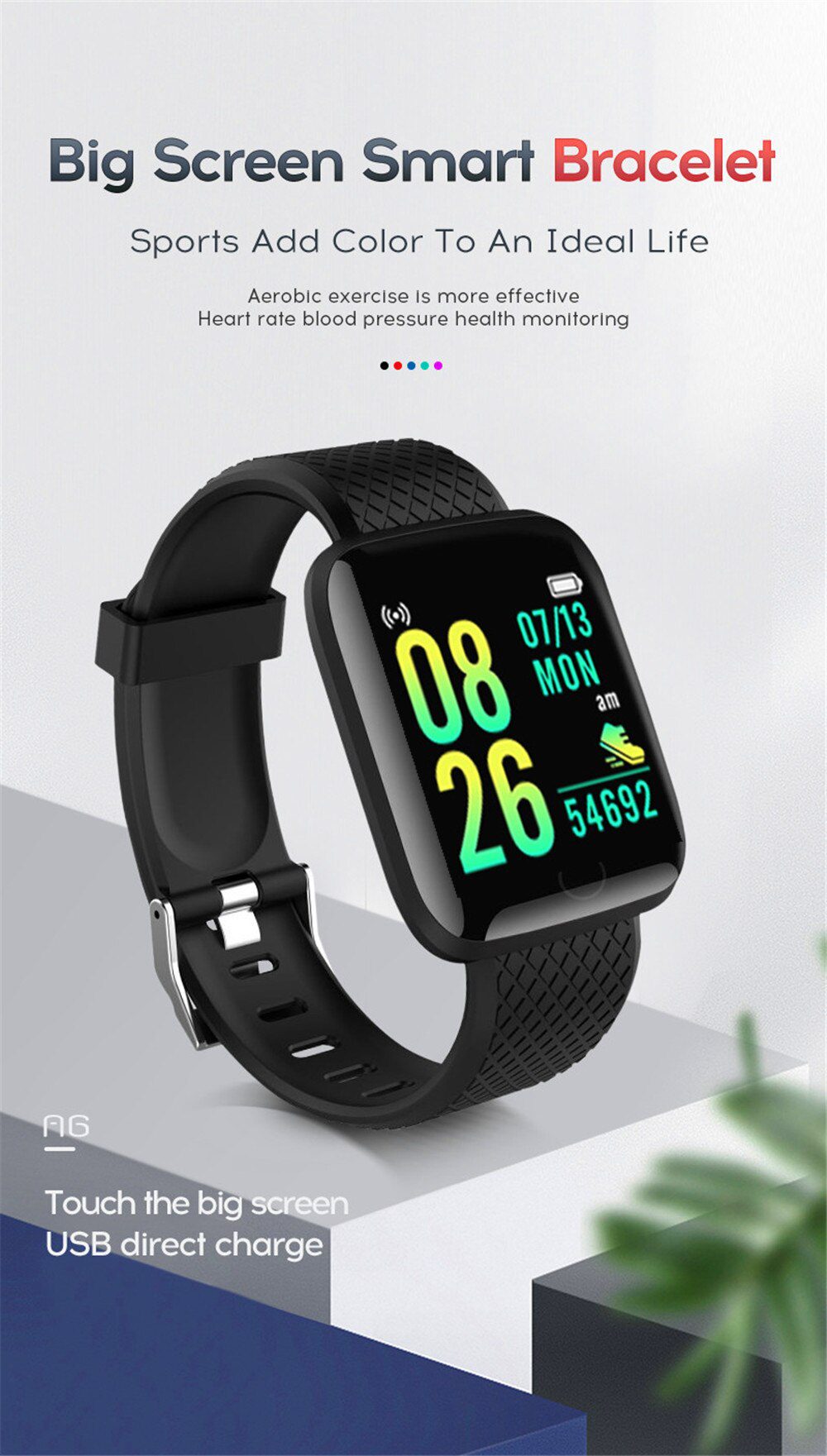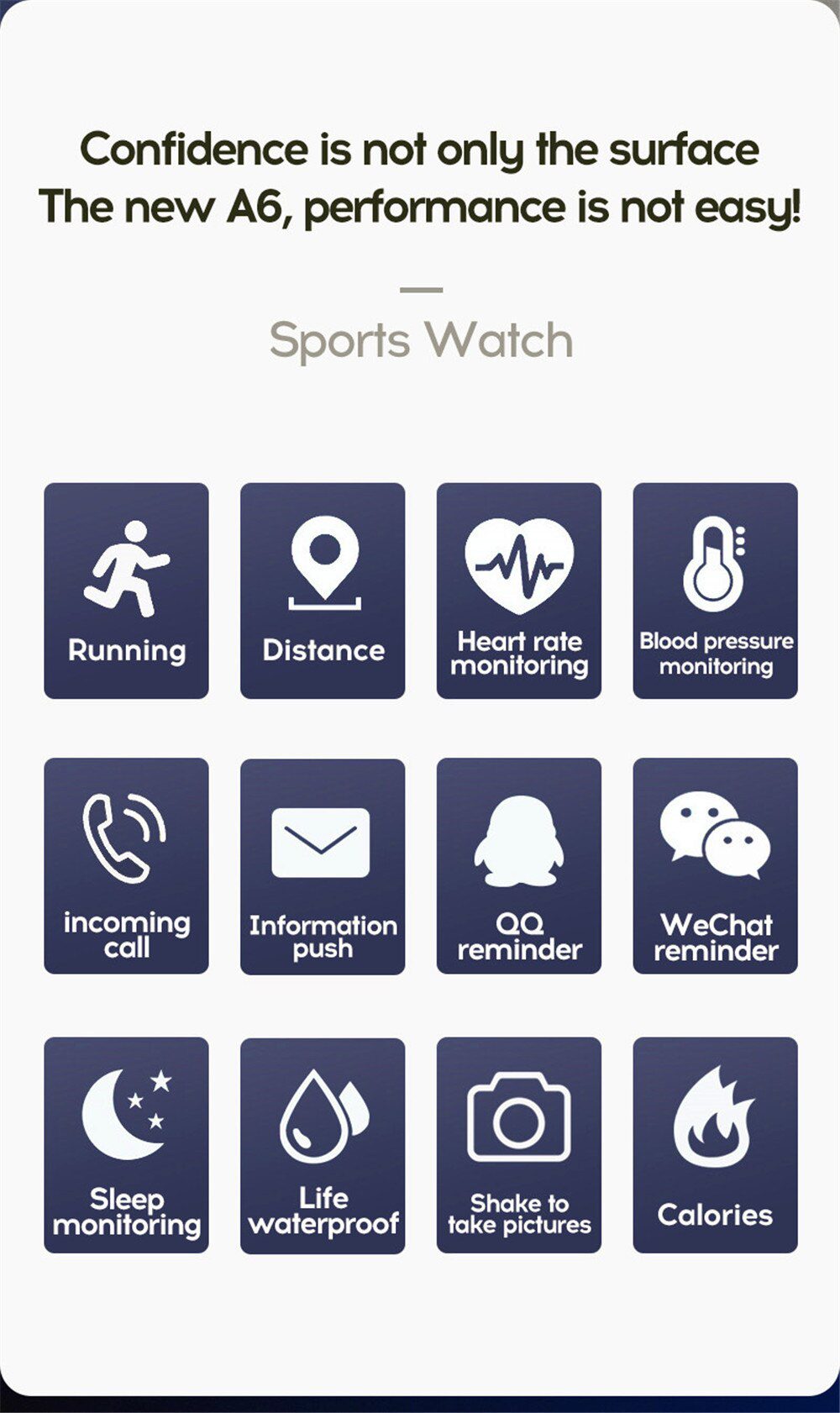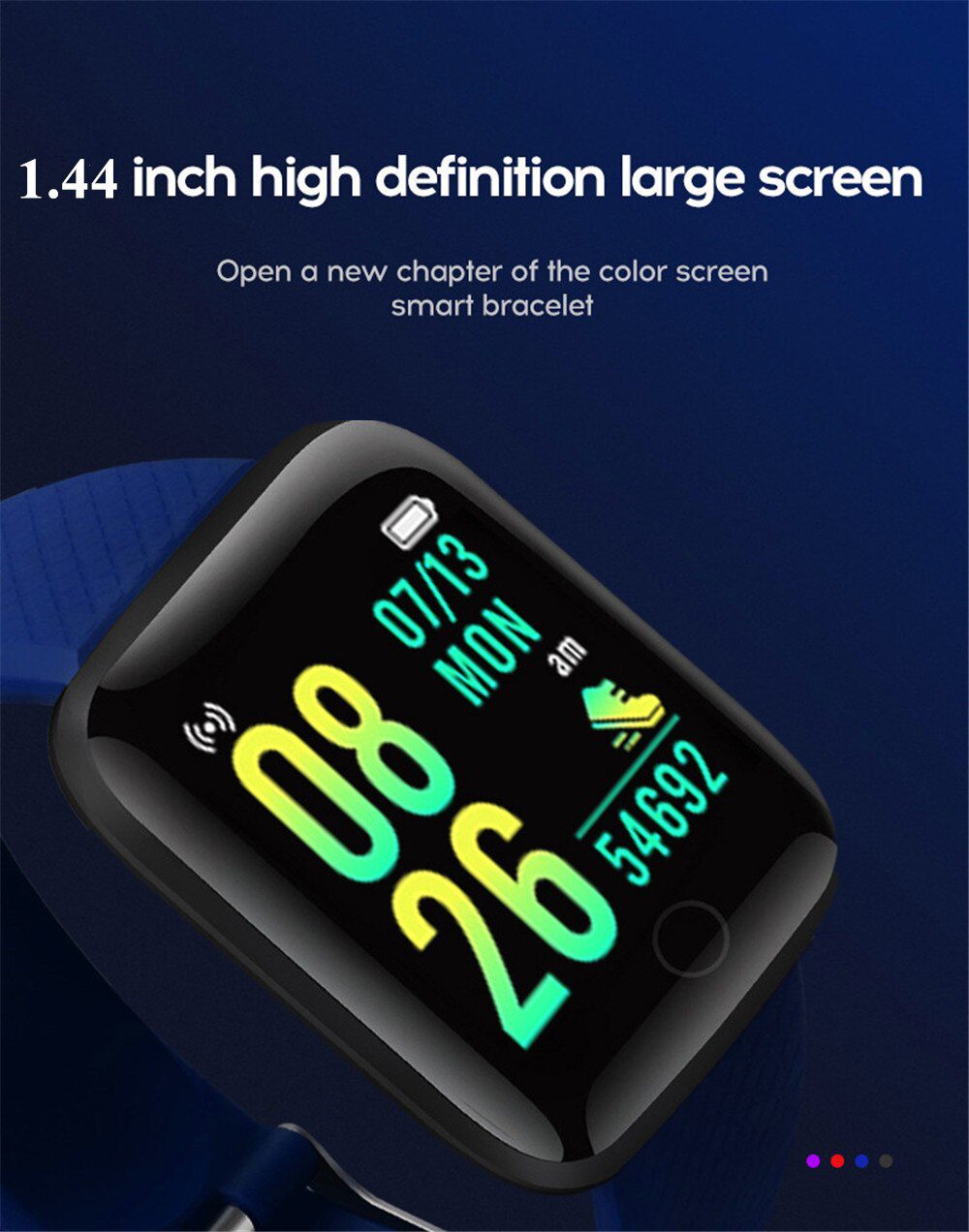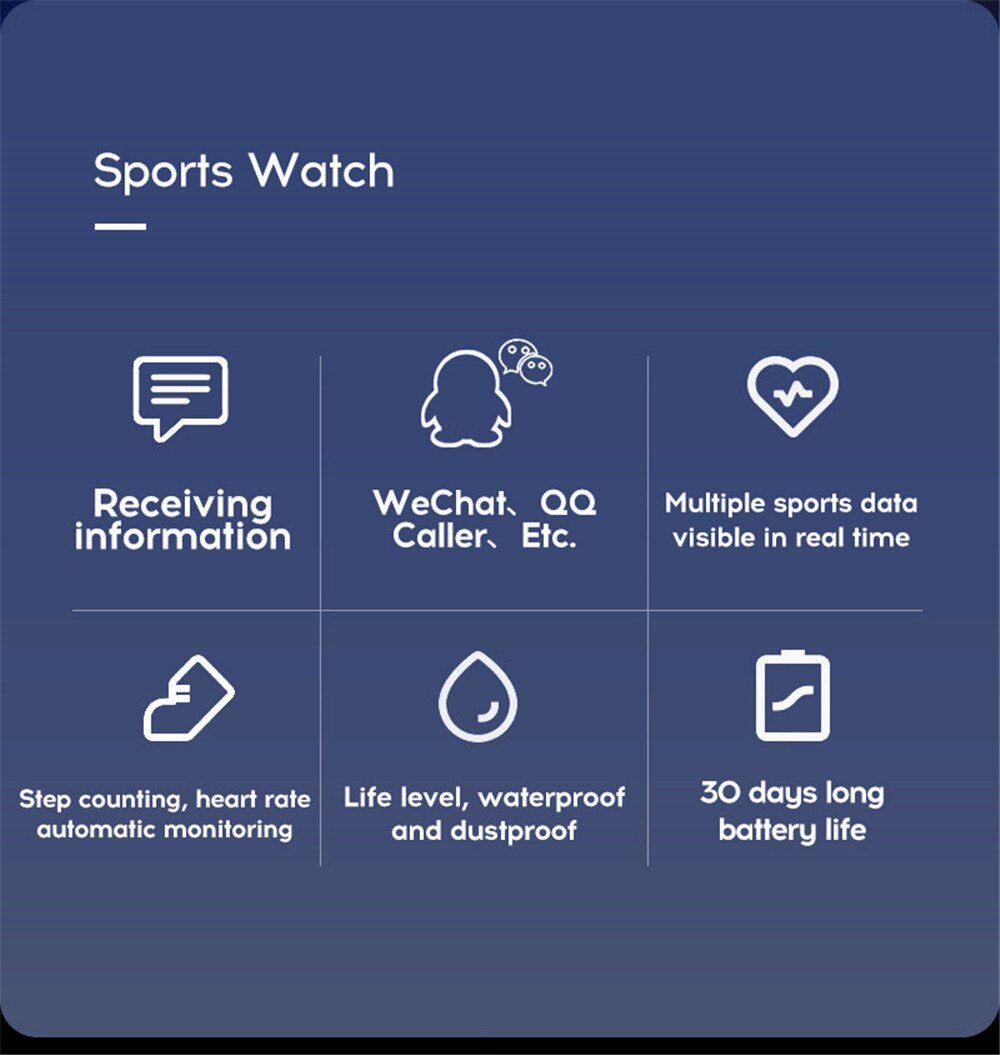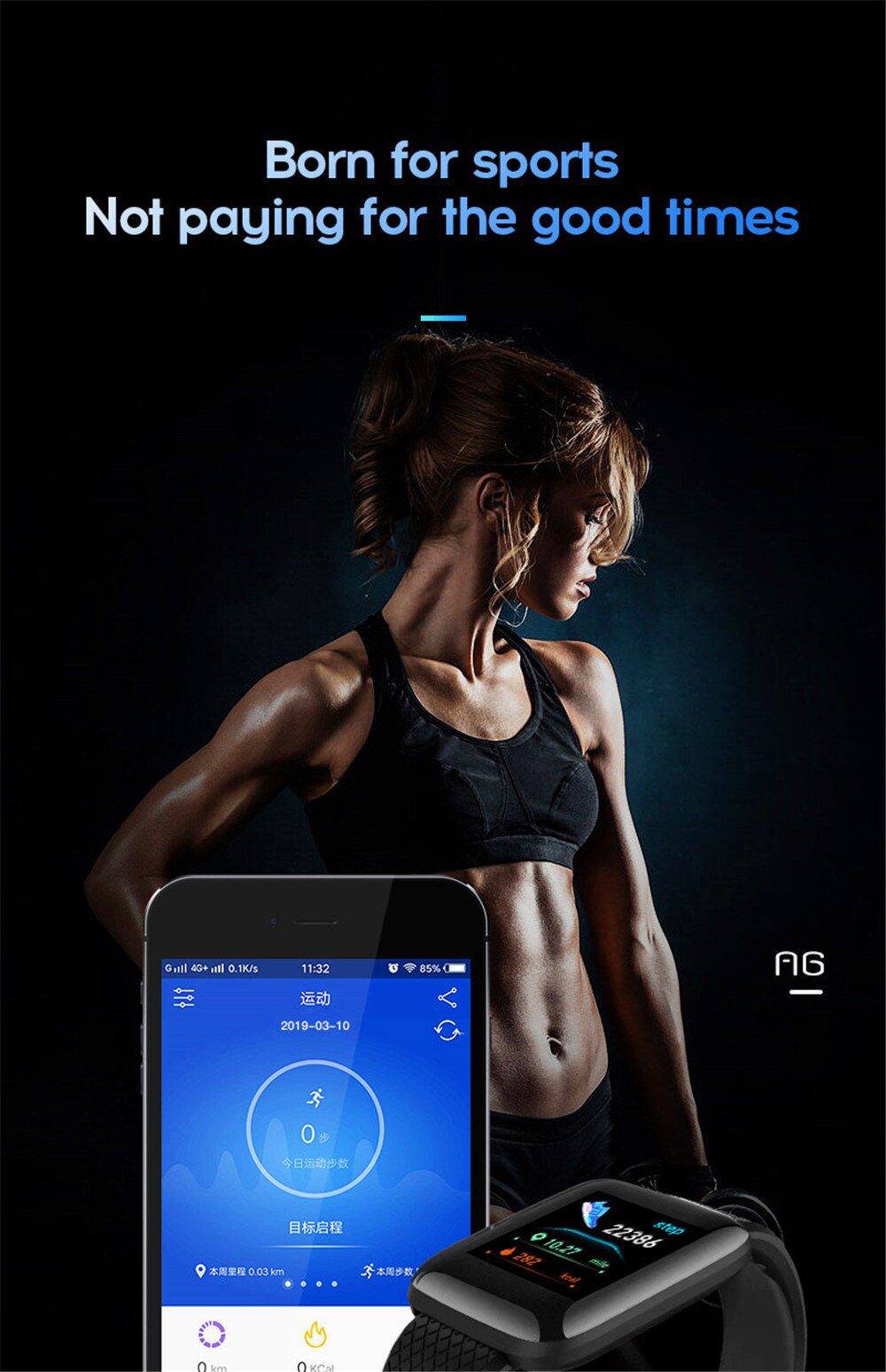 Revolutionizing Fitness Tracking: The 116plu Smart Watch for Men and Women
In today's fast-paced world, staying on top of your health and fitness goals is more important than ever. The 116plu Smart Watch emerges as a dynamic solution, combining style and technology to empower both men and women in their journey toward better health. With features ranging from heart rate monitoring to blood pressure tracking, this waterproof smartwatch offers a holistic approach to fitness, conveniently accessible on your wrist.
The Fusion of Fashion and Technology
Modern consumers seek technology that seamlessly blends into their lifestyles. The 116plu Smart Watch meets this demand by combining advanced health monitoring features with a fashionable exterior. Whether it's a workout session or a night out, this smartwatch effortlessly accompanies you.
Discovering the 116plu Smart Watch
A Companion for All Genders
The 116plu Smart Watch transcends gender boundaries, catering to the health and fitness needs of both men and women. Its versatile design ensures that it complements any style, making it a functional accessory that enhances your everyday look.
Waterproof Design: Fitness in All Environments
When it comes to fitness, your environment shouldn't be a limitation. This smartwatch's waterproof design allows you to track your progress during aquatic activities, ensuring that your fitness journey isn't confined to dry land.
Tracking Vital Signs: A Glimpse into Your Health
Heart Rate Monitoring: Insights in Real Time
Understanding your heart's response to various activities is vital for optimizing your fitness routine. The 116plu Smart Watch employs advanced sensors to monitor your heart rate in real-time, providing insights into your cardiovascular health and helping you tailor your workouts accordingly.
Blood Pressure Tracking: Awareness Beyond Numbers
Beyond heart rate, blood pressure is a crucial indicator of your overall health. This smartwatch allows you to track your blood pressure on the go, empowering you to make informed decisions about your well-being and engage in proactive health management.
Fitness in Focus: Elevating Your Workout Regimen
Comprehensive Activity Tracking
Whether you're walking, running, or cycling, the 116plu Smart Watch is your comprehensive fitness partner. It tracks your steps, distance, and calorie burn, enabling you to set and achieve your fitness goals with precision.
Sport Mode: Tailored Fitness Support
For dedicated workouts, the sport mode feature optimizes your smartwatch's tracking capabilities. It captures more accurate data during intense activities, ensuring that your efforts are accurately represented and helping you push your limits.
Smart Features Beyond Health
Compatibility with Android and iOS
The 116plu Smart Watch seamlessly integrates with both Android and iOS devices, ensuring that you stay connected regardless of your smartphone choice. Its user-friendly interface makes syncing and accessing data a breeze.
Stay Connected with Notifications
While health is a priority, staying connected to your digital life is equally important. This smartwatch notifies you of incoming calls, messages, and notifications, allowing you to strike a balance between fitness and everyday tasks.
Sleek Style and Comfort
Design Aesthetics for All Occasions
A smartwatch isn't just a functional device; it's an accessory that complements your style. The 116plu Smart Watch boasts a sleek design that effortlessly transitions from the gym to a night out, adding a touch of elegance to your ensemble.
Comfortable Wear for Round-the-Clock Use
Comfort is paramount, especially for a device you wear throughout the day. The smartwatch's ergonomic design and adjustable strap ensure a comfortable fit, whether you're working out, working, or winding down.
Efficient Battery Life and Charging
Longevity for Uninterrupted Use
Worrying about battery life shouldn't hinder your activities. The 116plu Smart Watch features an efficient battery that lasts for extended periods, ensuring that you can focus on your fitness and daily tasks without interruptions.
Swift and Convenient Charging
When it's time to recharge, the smartwatch's fast-charging capabilities ensure that you're ready to go in no time. This quick turnaround minimizes downtime and keeps you connected to your health and lifestyle.
FREE Shipping
Order Now to Avail Free Shipping Offer..!!