Is Smart Device: 

no

Is Battery Required:

No

Usage: 

HOLIDAY

Voltage: 

5V

Is Battery Included:

Yes

Light Source: 

LED Bulbs

Body Material: 

Plastic

Certification: 

CCC, CE, ROHS

Wattage: 

0-5W

Power Generation: 

Touch

Type: 

Night Light

Shape: 

Bar

Is Bulb Included:

No

Brand Name: 

Willed

Origin: 

Mainland China

Item Type: 

Night Lights

1: 

Motion Sensor Cabinet Light

2: 

Wireless Rechargeable Battery

3: 

Battery Display

4: 

Night Light

5: 

LED Lamp

6: 

desk light

7: 

table light
WILLED Motion Sensor Cabinet Light, Battery Display, 60 LED Touch Light Bar, Wireless Rechargeable Battery Operated Closet Light, Stick on Under Counter Lighting for Kitchen/Wardrobe/Cupboard (2 Pack)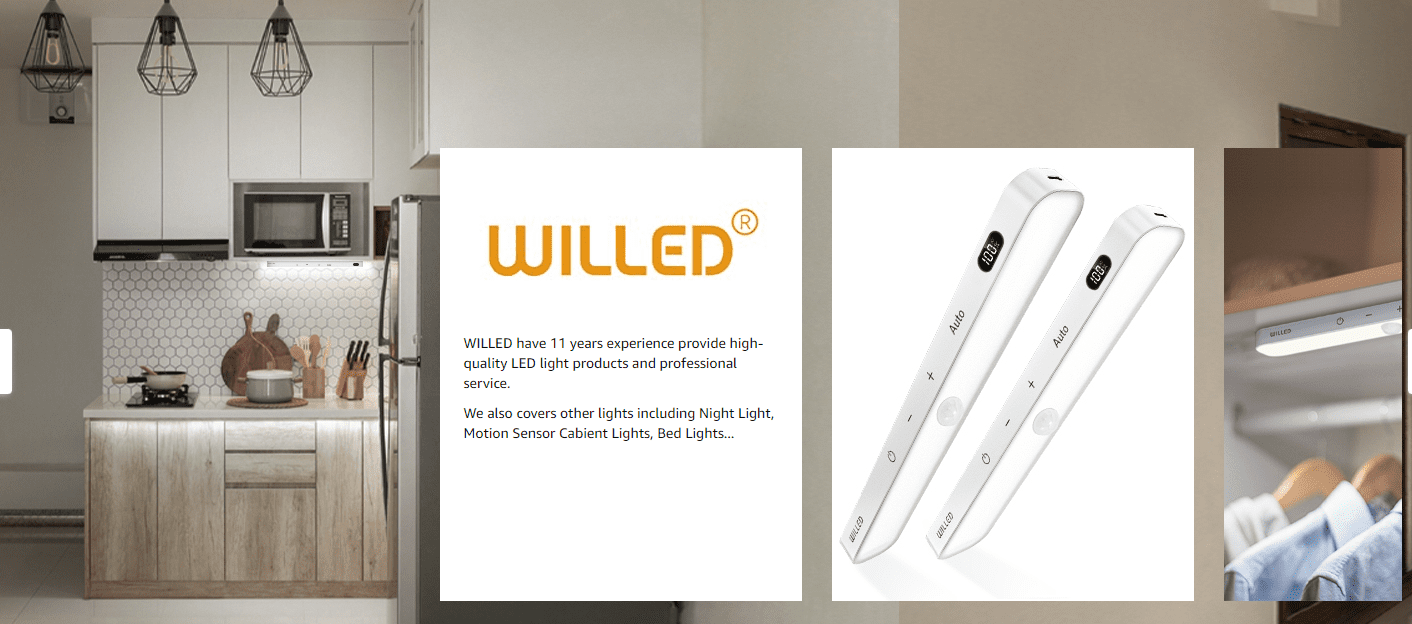 WILLED Homelife Motion Sensor Light Bar
With our unique LED battery display, you can see the battery remains clear, no guessing is needed on the power.
There are 4 touch keys on the cabinet light, one key for one function, easy to operate.
Two modes: Including Always ON/OFF Mode, and Auto Mode.
In Auto Mode, the light lights up automatically upon the sensor detects human activity under a dark environment, and automatically turns off after 20s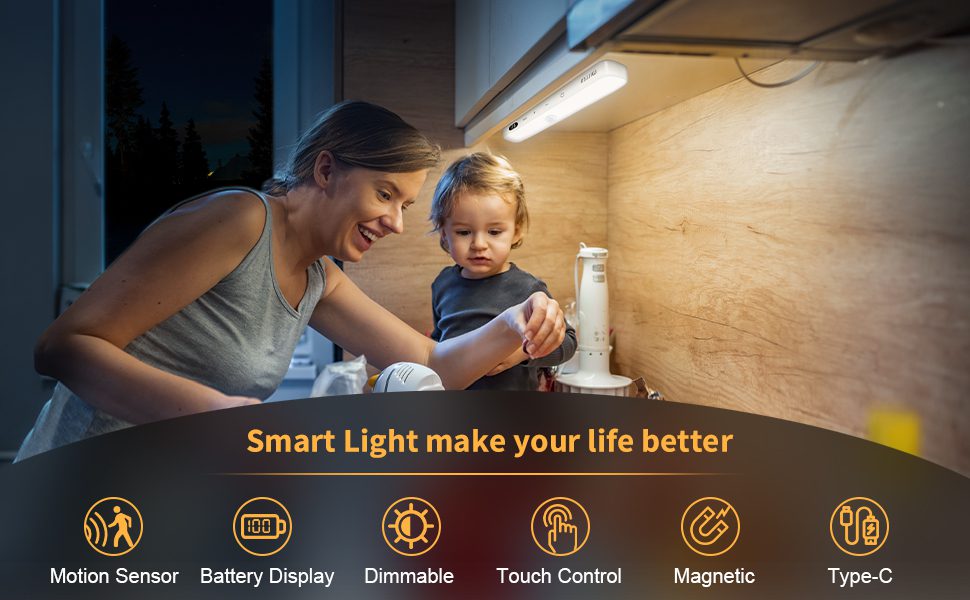 LED Qty: 60PCS
Power: 1.5W
DC: 5V
Lumen Flux: 150LM
Battery: 1300mAh
Length: 9.5Inch
Induction Distance: 3M
Induction Angle: 120°
Color Temperature: 6000K

Choose the proper brightness level to get more working time and energy-saving.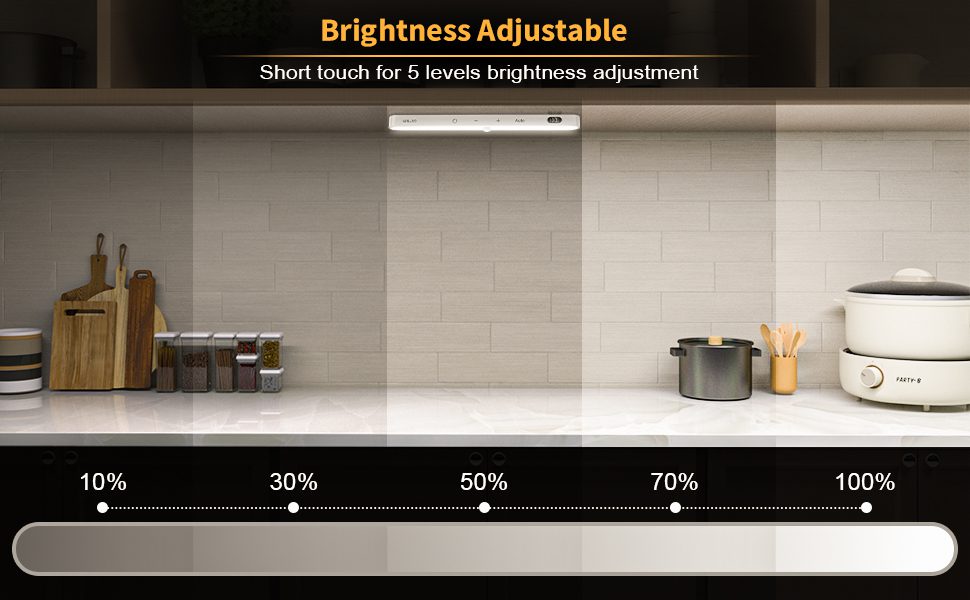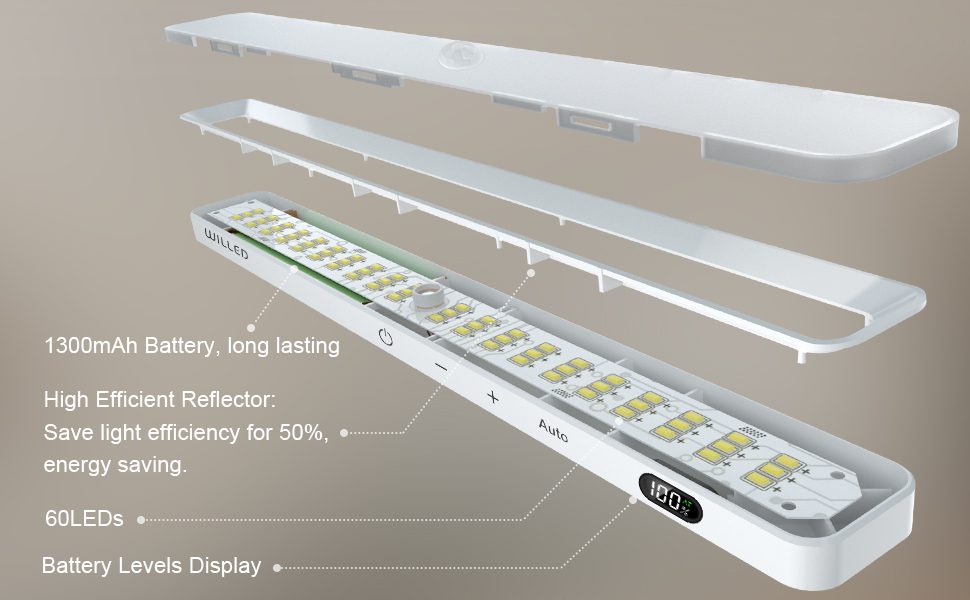 Energy -saving
Choose the proper brightness level to get more working time and energy-saving.
3 hours get fully charged can last 42 hours at 10% brightness and 5 hours at 100% brightness.
Warm Warning:
This motion sensor under the cabinet light is type-c rechargeable, please charge it in time to avoid damaging the battery.
The adhesive iron sheet is very strong, please install it in the appropriate place, in case you want to remove but hard to do that:)
Don't put 2 motion-activated LED lights too close, one of the lights may cause the other not to light up if they are too close.
Package Includes:
Motion sensor light bar × 2
Adhesive magnetic iron sheet x 2
Type-C charge cord × 2
User manual × 1
Embrace Effortless Lighting with the WILLED 2 Pack Motion Sensor Cabinet Light
In a world where convenience and innovation go hand in hand, the WILLED 2-Pack Motion Sensor Cabinet Light emerges as a practical solution for all your illumination needs. With its 60 LED touch light bar, wireless functionality, rechargeable battery, and motion sensor capabilities, this light offers a seamless blend of versatility and practicality. Join us as we explore the features that make this lighting solution a must-have for any space.
A Vision of Practicality: The Motion Sensor Advantage
Effortless Activation
The WILLED 2-Pack Motion Sensor Cabinet Light is equipped with intelligent motion sensor technology. This feature ensures that the light activates automatically when it detects motion within its range. Say goodbye to fumbling in the dark or searching for switches; the light responds to your presence, instantly providing the illumination you need.
Energy Efficiency
Motion sensor technology not only adds convenience but also contributes to energy conservation. The light is designed to turn off automatically when no motion is detected, helping to prolong the battery life and reduce energy consumption. This eco-friendly approach ensures that you have well-lit spaces when needed without wasting energy unnecessarily.
Touch to Illuminate: The Power of 60 LEDs
Customizable Brightness
The 60 LED touch light bar provides customizable brightness levels to suit your preferences. With a simple touch, you can adjust the intensity of the light to match the ambiance you desire. Whether you need a gentle glow for relaxation or a brighter illumination for tasks, this light offers a range of options to cater to your needs.
Uniform and Glare-Free Lighting
The arrangement of LEDs ensures uniform and glare-free lighting. This design not only enhances visibility but also creates a comfortable and inviting atmosphere. Whether you're using the light in your cabinets, closets, or any other space, the WILLED 2-Pack Motion Sensor Cabinet Light delivers a soothing and efficient illumination experience.
Wireless and Rechargeable: Convenience Redefined
No Wires, No Hassle
The wireless design of the WILLED Cabinet Light eliminates the need for cumbersome cords and outlets. This makes installation a breeze and allows you to place the light wherever you need it most without worrying about proximity to power sources. Say goodbye to drilling holes and managing tangled cords.
Rechargeable Battery
Equipped with a rechargeable battery, this light eliminates the need for frequent battery replacements. Simply recharge the light using the provided USB cable, and it's ready to provide reliable illumination once again. This convenience not only saves you money on batteries but also contributes to a more sustainable and eco-friendly lifestyle.
Enhance Every Space: Versatile Application
Cabinet and Closet Brilliance
Install the WILLED 2-pack Motion Sensor Cabinet Light inside cabinets and closets for convenient and efficient lighting. No more struggling to find items in the dark corners; the motion sensor activation ensures you have light exactly when you need it.
Nighttime Navigation
Place these lights strategically along hallways, staircases, and other high-traffic areas for safe and guided navigation during the nighttime hours. The motion sensor technology provides a gentle glow that guides your way without disrupting your sleep.
Multipurpose Illumination
The versatility of the WILLED Cabinet Light extends beyond its primary use. It can be used as a reading light, emergency light, or even as an accent light to highlight certain elements in your living spaces. Its compact and sleek design makes it an unobtrusive addition to any area.
Conclusion: A Bright Future with WILLED Cabinet Light
The WILLED 2 Pack Motion Sensor Cabinet Light is a shining example of innovation meeting convenience. With motion sensor technology, customizable brightness, wireless design, and rechargeable battery, this light offers a new dimension of practicality to your living spaces. From cabinets to hallways, this light ensures you have illumination precisely when and where you need it.
Elevate your lighting experience with the WILLED Cabinet Light and enjoy the ease and efficiency it brings to your daily life.
---
FAQs
How long does the rechargeable battery last on a single charge? The battery life varies depending on usage and brightness settings. On average, a fully charged battery can last between 2 to 4 weeks.
Can the motion sensor be adjusted for sensitivity? Yes, the motion sensor's sensitivity can be adjusted to accommodate different preferences and spaces.
Is installation complicated? Not at all. The WILLED Cabinet Light comes with adhesive strips that allow for easy installation without the need for tools or drilling.
Can I use these lights outdoors? The WILLED Cabinet Light is designed for indoor use. Exposure to extreme weather conditions may affect its performance.
FREE Shipping
Order Now to Avail Free Shipping Offer..!!