Material: 

ABS, Plastic

Category: 

Earphones & Headphones

Earcups Type: 

Sealed

Max Output: 

5mW

Number Of Drivers: 

2

Charging Method: 

Cable

Headphone Pads Material: 

Memory Foam

Magnet Type: 

Other

Driver Diameter: 

6mm

Total Harmonic Distortion: 

0.1%

Impedance Range: 

up to 32 Ω

Bluetooth Version: 

Other

Package List: 

User Manual, Charging Cable, Detachable Audio Cable

Features: 

With Microphone, waterproof, Apple Siri Support

Codecs: 

sbc

With Microphone: 

Yes

Is wireless: 

Yes

Support APP: 

No

Support Memory Card: 

No

Waterproof: 

Yes

Resistance: 

16Ω

Line Length: 

0m

Frequency Response Range: 

20 – 20000Hz

Sensitivity: 

115dB

Plug Type: 

Line Type

Function: 

for Video Game, Common Headphone, For Mobile Phone, HiFi Headphone, Sport

Active Noise-Cancellation: 

No

Volume Control: 

Yes

Control Button: 

Yes

Vocalism Principle: 

Dynamic

Wireless Type: 

Bluetooth

Connectors: 

Type c

Communication: 

Wireless

Style: 

Headphone

Certification: 

CE, FCC

Origin: 

Mainland China

Brand Name: 

BASEUS

BASEUS Model: 

D02 Pro

Function 1: 

Operation Range 10 Meters; Bluetooth V5.0 Headphones With Microphone

Function 2: 

1.5 Hours Charging Time; 300 Hours Standby Time

Function 3: 

450mAh Battery Capacity; Up to 50 Hours of Talk / Music Time

Function: 

Supports Music Playing; Phone Calling; Support 3.5mm Wired

Feature 1: 

Fone De Ouvido; Auriculares Inalambrico Bluetooth; Audifonos Bluetooth

Feature 2: 

Sport Bluetooth Headphone; Headphone For Computer; Earphones for phones

Feature 3: 

Kulakl K; Ear Phones; Noise Canceling Headphone;Gaming Headphones

Feature 4: 

Head Phones; Headphones With Microphone; Head Set

Feature 5: 

Hands Free Earphone; Casque Audio; Headphones For Girls

Feature 6: 

Universal Bluetooth Earphones; Wireless Earphone Bluetooth Headphones

Feature 7: 

Compatible with iPhone 14 13 12 11 Pro Max 8 7 Plus

Feature 8: 

Compatible with Xiaomi Poco Sansumg Huawei Realme

Bluetooth Version: 

V5.3
Baseus
Natural Sound Player Extraordinary Sound Effect
Encok Wireless headphone D02 Pro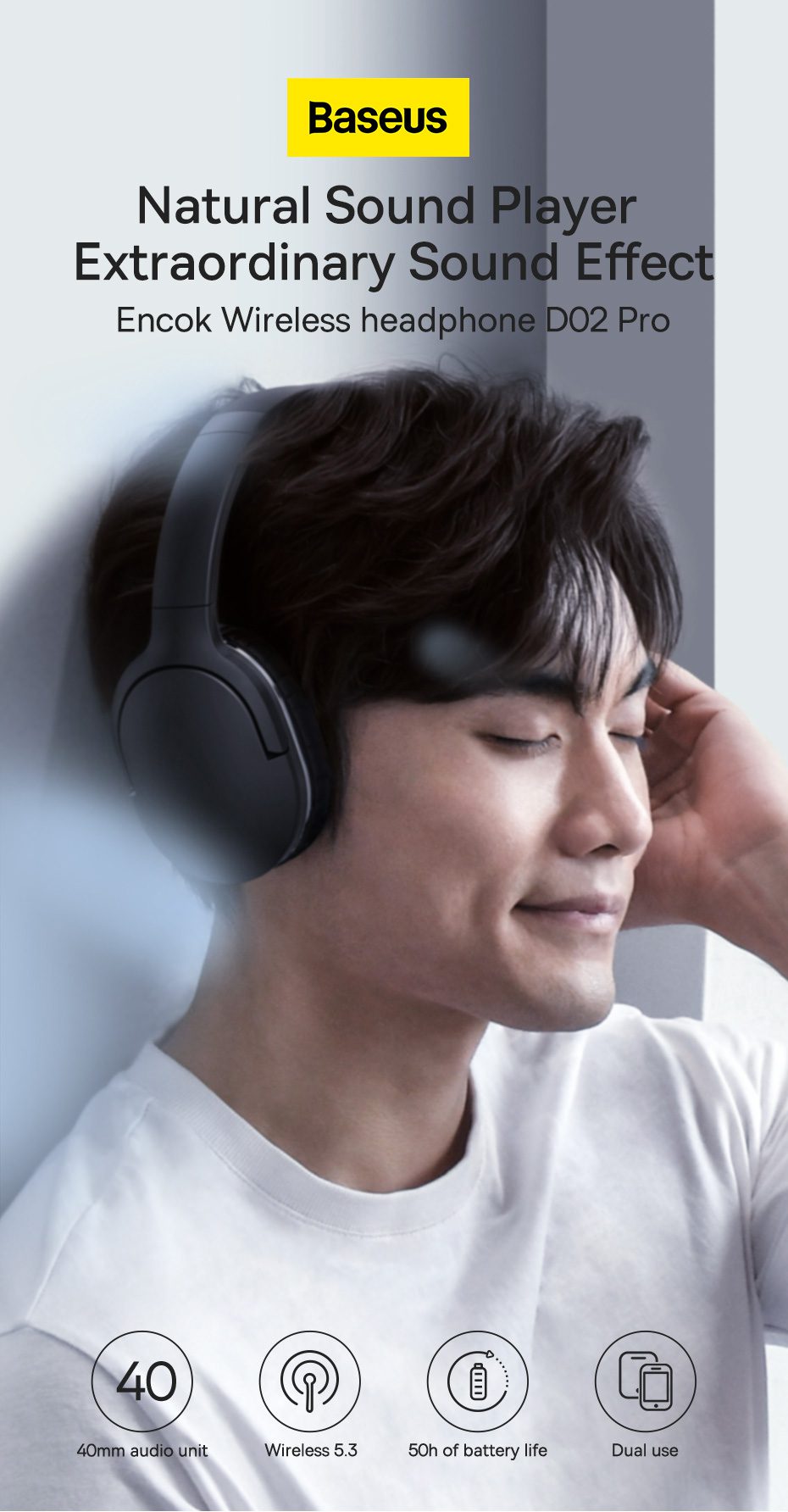 40mm Moving coils for immersive Listening
40mm high-precision moving coils to create a wide and vivid sound field, Stunning bass and custom 3D stereo give you an immersive and realistic experience
New Wireless 5.3 Brings 10m Stable Connection
New Wireless V5.3 chips bring high-quality sound and stable and high-speed transmission over a distance of 10 meters for clear and low latency calls and audio-to-video synchronization, without music or video stutter.
Charge Once and Listen for a Week
Built-in 450mAh high-capacity lithium batteries have 10mA of low power consumption for 40 hours of continuous play once fully charged, listening to music for a whole week and 5 hours a day.
Superb Gaming Experience with Low Latency
Turn on the game mode for an excellent gaming experience with just 60ms latency, audio sync up with your visual, and no more lagging behind.
Dual Use, Calling while Playing
Smart connection technology supports connecting two devices at the same time. Seamlessly switch to calling while listening to music or playing games. No more missed calls or complicated operations
Reinforced Headband, Durable
With 304 stainless steel reinforced telescopic rods, the headphones are no longer fragile and the solid headband does not deform for long-term use
Adaptive Micro-adjustment Design for Wearing without Pressure
7 levels of ergonomic wear design and adjustable angles of ear pads to easily adjust the pressure on different head shapes, keeping the hairstyle nice and comfortable to wear.
Telescopic rods sliding adjustment
Inner rotation fold adjustment
Headphone head rotation adjustment
Comfortable Over-ear headphones with Noise Isolation
Ear pads are made of soft foam and protein leather, fitting to the ear contour. Comfortable to wear and isolating your ears from the noise.
Lightweight and Folding Design for Portability
The rotary axis design enables multi-angle rotation and folding, and then compact size makes it easy to carry around
Adjustment while Wearing Headphones
Push the button at the bottom of the left ear pad turn on and press it to change music and volume, pause music, etc.
Wired or Wireless Easy to Switch
Even if the headphones are out of battery,  the music will still keep going. Just connect a 3.5mm audio cable to the 3.5mm audio jack on them to continue to enjoy your music.
FREE Shipping
Order Now to Avail Free Shipping Offer..!!