Auto Focus: 

Yes

Package: 

Yes

Interface Type: 

USB

Image Sensor: 

CMOS

Pixels: 

3 Mega

Max. Resolution: 

2560×2048

Brand Name: 

FIFINE

Certification: 

CE

Origin: 

Mainland China

Model Number: 

K420
FIFINE K420 is an HD 1440p webcam with wide compatibility that surpasses the video and sound quality provided by most laptops. Step up to a world that has high resolution at a price point ideal for deployment at scale.

The fixed 108-degree wide angle of view of FIFINE K420 is capable of covering the protagonist and extra details of interest for visual sharing, ideal for capturing the faces of a small crowd on one screen.

An integrated omnidirectional microphone is always at your disposal whenever needed, without extra settings or software required. When selected, the microphone is optimized to deliver clear audio captured from up to half a meter away from the other end.

Two types of installation with on-clip and desktop tripod modes, on either mode, you can find the perfect angle to show yourself with the horizontally 360-degree rotatable and vertically adjustable connection joint.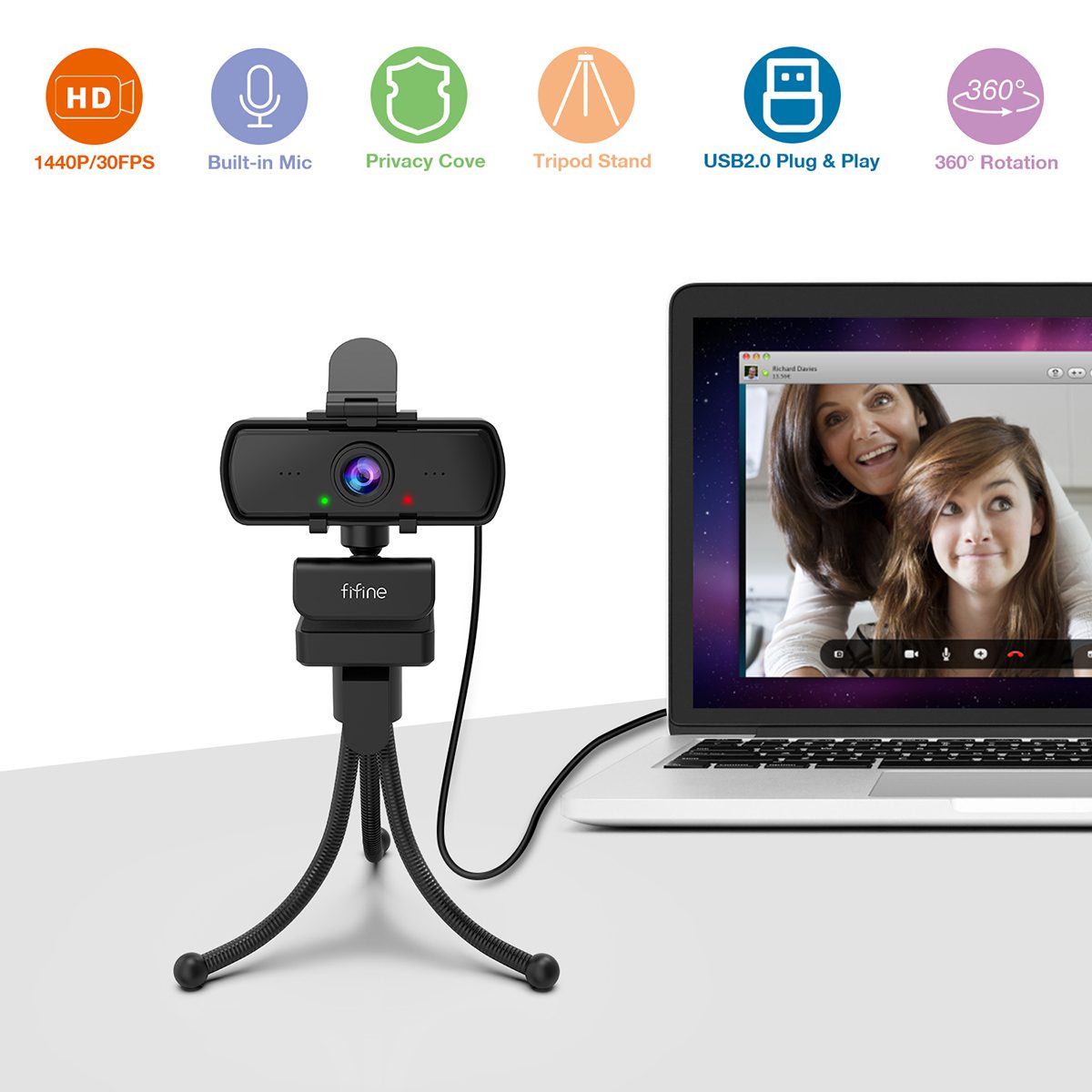 Exploring the Impressive Features of the FIFINE 1440p Full HD PC Webcam with Microphone (K420)
The world of online communication and content creation demands high-quality tools to ensure clear and immersive experiences. FIFINE, a brand known for its commitment to audio and visual solutions, presents the FIFINE 1440p Full HD PC Webcam with Microphone (K420). This webcam is designed to elevate your video calling and live streaming endeavors, offering a range of features that enhance both the visual and audio components of online interactions.
Crystal Clear 1440p Full HD Video
Experience unparalleled visual quality with the FIFINE K420 webcam's 1440p Full HD resolution. Whether you're engaged in video calls, streaming, or content creation, the webcam delivers sharp, detailed imagery that ensures you're seen in the best possible light.
High-Quality Microphone
The integrated microphone is designed to capture your voice with remarkable clarity. Say goodbye to muffled or distorted audio – the FIFINE K420's microphone ensures your words come across with precision, making conversations and recordings sound professional.
Tripod Stand Included
The FIFINE K420 comes with a tripod stand that provides stability and flexibility in positioning the webcam. Whether you're placing it on your desktop or laptop, the tripod ensures that the webcam captures the perfect angle for your calls, streams, or recordings.
Plug and Play Convenience
Setting up the FIFINE K420 is a breeze. It's a plug-and-play webcam, which means you can connect it to your desktop or laptop via USB and start using it right away. No complicated installations or drivers are required – just seamless functionality.
Wide Compatibility
The FIFINE K420 is compatible with both desktop and laptop systems. Whether you're using Windows, macOS, or another operating system, this webcam ensures cross-platform versatility, making it a convenient choice for users with diverse devices.
Low-Light Enhancement
Don't worry about dimly lit environments affecting your video quality. The FIFINE K420 features low-light enhancement technology that adapts to varying lighting conditions, ensuring you're visible even in less-than-ideal settings.
Adjustable Focus
Achieve the perfect focus every time with the FIFINE K420's adjustable focus feature. Whether you're showing intricate details or creating a more blurred background for that professional look, this webcam provides control over your visual presentation.
Privacy Shutter
Protect your privacy when the camera isn't in use with the included privacy shutter. This feature adds an extra layer of security and peace of mind, ensuring that your webcam remains off and your privacy remains intact.
FREE Shipping
Order Now to Avail Free Shipping Offer..!!