Features: 

Portable outdoor LED lamps/emergency charging/long battery life

Model Number: 

MOS-LY01

Usage: 

Outdoor Camping Fishing Hunting Trip Tent Lights Emergency Maintenance

Warranty: 

1 Year

Light Source: 

LED Bulbs

Certification: 

CE, FCC, GS, ROHS, UL

Battery Type: 

Lithium Metal

Lighting Period (h): 

12

Body Material: 

Aluminum

Are Batteries Required:

Yes

Power Source: 

Rechargeable Battery

Brand Name: 

Maetff

Origin: 

Mainland China

Certification: 

UL, RoHS, GS, FCC, CE

Item Type: 

Portable Lanterns
Illuminate Your Adventures with the New Upgraded 15600mAh Rechargeable LED Camping Light
Features:
1: MOS-LY01 Has three light sources: the lamp can switch between two colors 3000k/7500k (warm white/cool white), SOS red flashing alert!
2: Brightness adjustment: ( Long press for step-less dimming, light brightness can be adjusted at will).
3: Light source: ( 278 PCS LEDS)!
4: Charging port: Supports Type-c charging port!
5: Output charging speed: Supports 2A fast charging!
Use Scene Features:
Waterproof: Deep life, weatherproof, can be used on rainy days!
2: Working time: The maximum brightness is about 10 hours, and the minimum brightness is about 60 hours!
3: Magnetic attraction: Double magnets can be directly attached to the metal surface!
4: Can be hung: The belt is equipped with a non-slip hook, which can be hung in any position, which is convenient for life!
5: Power display: keep abreast of the current power, indicator design!
6: This outdoor LED portable light is also a power bank to charge your phone or other devices.
7: This outdoor LED portable light repair light, emergency light, and work light make it more convenient for you to use.
8: It is also an outdoor lighting, camping light, fishing light, and hunting light, it can make your outdoor entertainment sports guaranteed lighting, no longer dark.
9: Camping lights, fishing lights, hunting lights, travel lights, tent lights, high-end products that can be used
Portable outdoor LED lamps/emergency charging/long battery life.
You Will Get:
1* Portable Lantern
1* USB-type Data Cable
1*Black Universal S Buckle
1* Lanyard
1* S Buckle
1* Instruction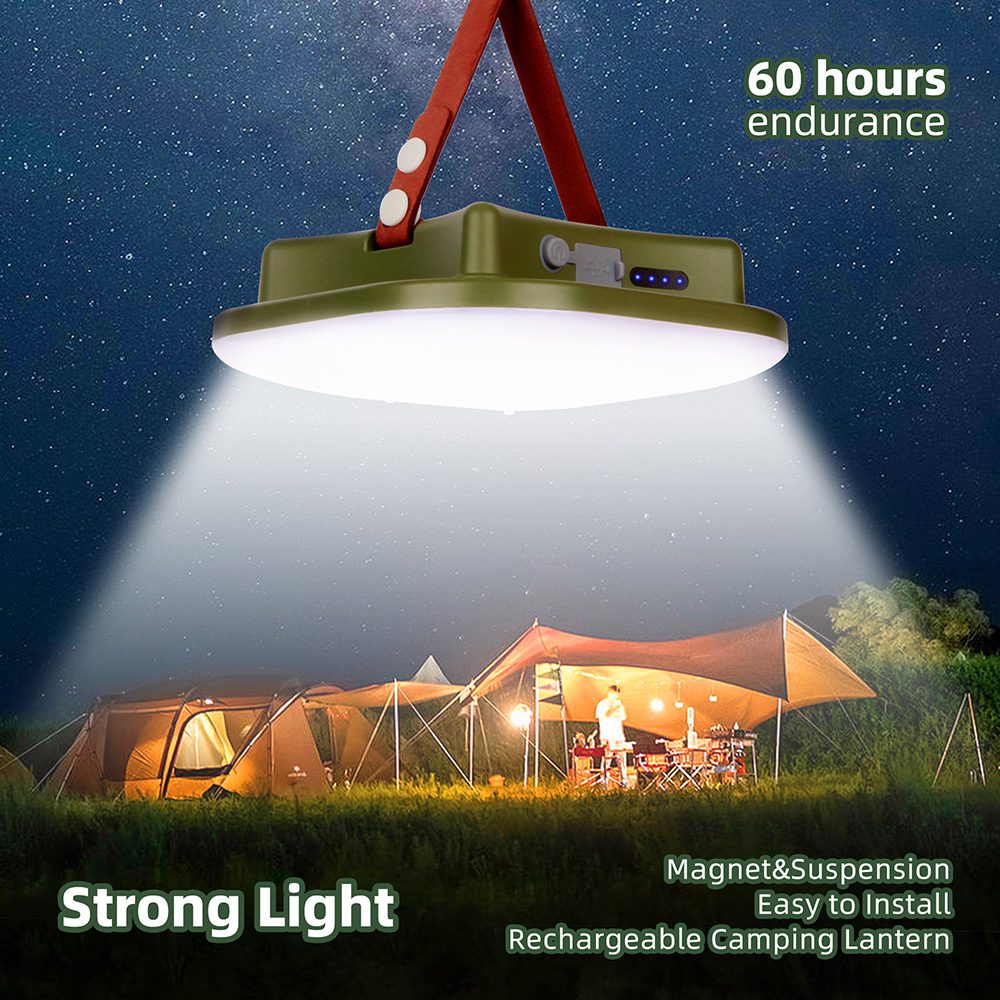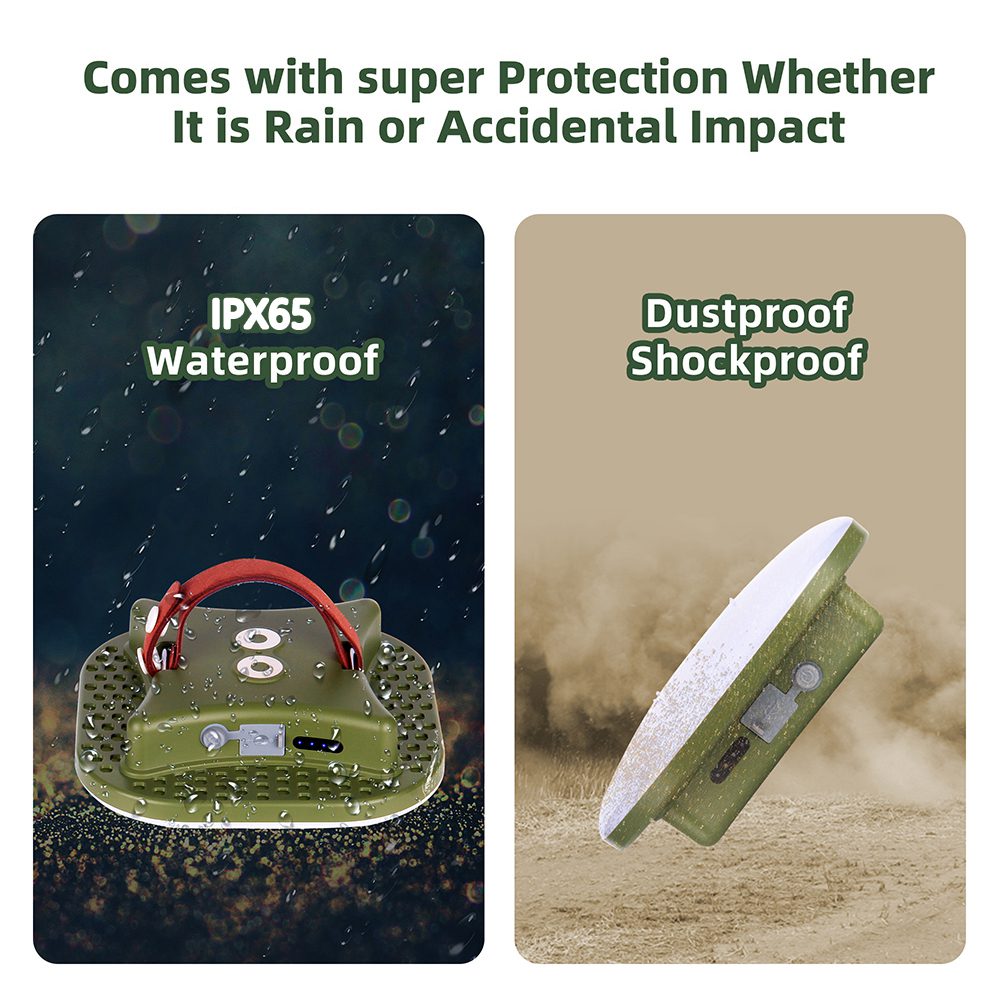 Unleash the Power of Light: Your Ultimate Camping Companion
Introducing the New Upgraded 15600mAh Rechargeable LED Camping Light, a beacon of illumination that revolutionizes outdoor experiences and work environments alike. With its impressive features, including strong lighting, magnetic capabilities, zoom functionality, and portability, this torch is more than just a light source—it's a versatile tool that empowers you wherever you go.
Shedding Light on the Features
Powerful Illumination for Every Situation
The heart of the New Upgraded Camping Light lies in its powerful LED lighting. With a focus on optimal brightness and coverage, this torch ensures that darkness never stands a chance. Whether you're setting up camp, exploring the wilderness, or need reliable lighting for maintenance tasks, the intense beam of light is your dependable companion.
Magnetic Magic: Hands-Free Convenience
One of the standout features of this torch is its built-in magnet. This magnetic capability transforms the light into a hands-free assistant. Attach it to metal surfaces, such as car hoods, tents, or workbenches, and enjoy effortless lighting that frees up your hands for other tasks. This innovative design enhances versatility, making it a reliable choice for various scenarios.
Zoom In for Precision
Equipped with zoom functionality, the New Upgraded Camping Light allows you to adjust the focus of the beam. Zoom in for precision tasks, such as detailed repairs or reading maps, and zoom out for broader coverage when you need to light up larger areas. This adaptability ensures that you have the right lighting for every situation.
Portability: Your Light on the Go
Designed with portability in mind, this torch is your ideal companion for on-the-go adventures. Its compact size and lightweight build make it easy to carry in your backpack, toolbox, or vehicle. Whether you're embarking on a camping trip, preparing for emergencies, or need a reliable light source for your work, this torch is always ready to shine.
Versatile Applications: From Camping to Work
Camping and Outdoor Adventures
Elevate your camping experiences with the New Upgraded Camping Light. Whether you're setting up camp, exploring trails after sunset, or enjoying stargazing, this torch ensures that darkness doesn't limit your outdoor adventures. Its robust lighting creates a cozy ambiance that enhances the camping atmosphere.
Work and Maintenance
In the realm of work and maintenance, this torch shines as a valuable tool. Its strong illumination is perfect for intricate repairs, vehicle maintenance, or any task that requires focused lighting. With the magnetic feature, you can effortlessly attach it to surfaces, leaving your hands free to handle tools and complete tasks with ease.
Recharge and Illuminate: 15600mAh Battery Power
Long-Lasting Battery Life
The New Upgraded Camping Light is powered by a high-capacity 15600mAh rechargeable battery. This impressive battery life ensures that you have reliable lighting throughout your adventures or work projects. Say goodbye to frequent battery changes and hello to continuous illumination.
Rechargeable Convenience
The torch's rechargeable design eliminates the need for disposable batteries. Simply recharge the battery using the provided charging cable, and you're ready to illuminate your world once again. This eco-friendly approach saves you money while reducing environmental impact.
Conclusion: Lighting the Path Ahead
The New Upgraded 15600mAh Rechargeable LED Camping Light isn't just a light source—it's a powerful tool that empowers you in various scenarios. Whether you're camping under the stars, tackling maintenance tasks, or exploring the great outdoors, this torch's strong lighting, magnetic capabilities, zoom functionality, and portability ensure that you're never left in the dark.
Illuminate your adventures and work projects with the reliable and versatile lighting of the New Upgraded Camping Light. It's time to light the path ahead and embrace the power of illumination.
---
FAQs
How long does the battery last on a single charge? The high-capacity 15600mAh rechargeable battery offers long-lasting illumination. The actual battery life depends on usage and brightness settings.
Can I use this torch during rain or wet conditions? The torch is designed with an IP65 waterproof rating, making it suitable for use in light rain or wet environments. However, it's recommended to avoid submerging it in water.
Is the Zoom functionality easy to use? Yes, the Zoom feature is user-friendly. Simply slide the zoom control to adjust the focus of the beam.
What's included in the package? The package typically includes the New Upgraded Camping Light, a charging cable, and user instructions.
FREE Shipping
Order Now to Avail Free Shipping Offer..!!