Features: 

Washable, Anti-Fingerprint, Anti-Scratch

Type: 

Half-wrapped Case

Origin: 

Mainland China

Compatible Brand: 

iPhone

Item No.: 

M1 Aluminum Alloy Mobile Phone Case

Color: 

Starry sky gray, bright moon Silver

Craft: 

Hollow out

Applicable model: 

iPhone12, iPhone12 Pro, iPhone12 Promax, iPhone13, iPhone13 Pro, iPhone13 Promax, iPhone14, iPhone14 Pro, iPhone14 Promax

Material: 

Metal Aluminum Alloy

Function: 

Shockproof, heat dissipation, anti-wear, anti-fall, anti-fingerprint

Style: 

Hard Shell
Experience Excellence: Aluminum Alloy iPhone Case with Aromatherapy and Heat Dissipation
Color: starry sky gray, bright moon silver
Applicable Models: iphone12,iphone12pro,iphone12promax,iphone13,iphone13pro,iphone13promax,iphone14,iphone14pro,iphone14promax
Style: Creative, Chinese style
Function: shockproof, heat dissipation, anti-wear, anti-drop, anti-fingerprint
Item: M1
Process: Hollow
Note: This product does not support MagSafe.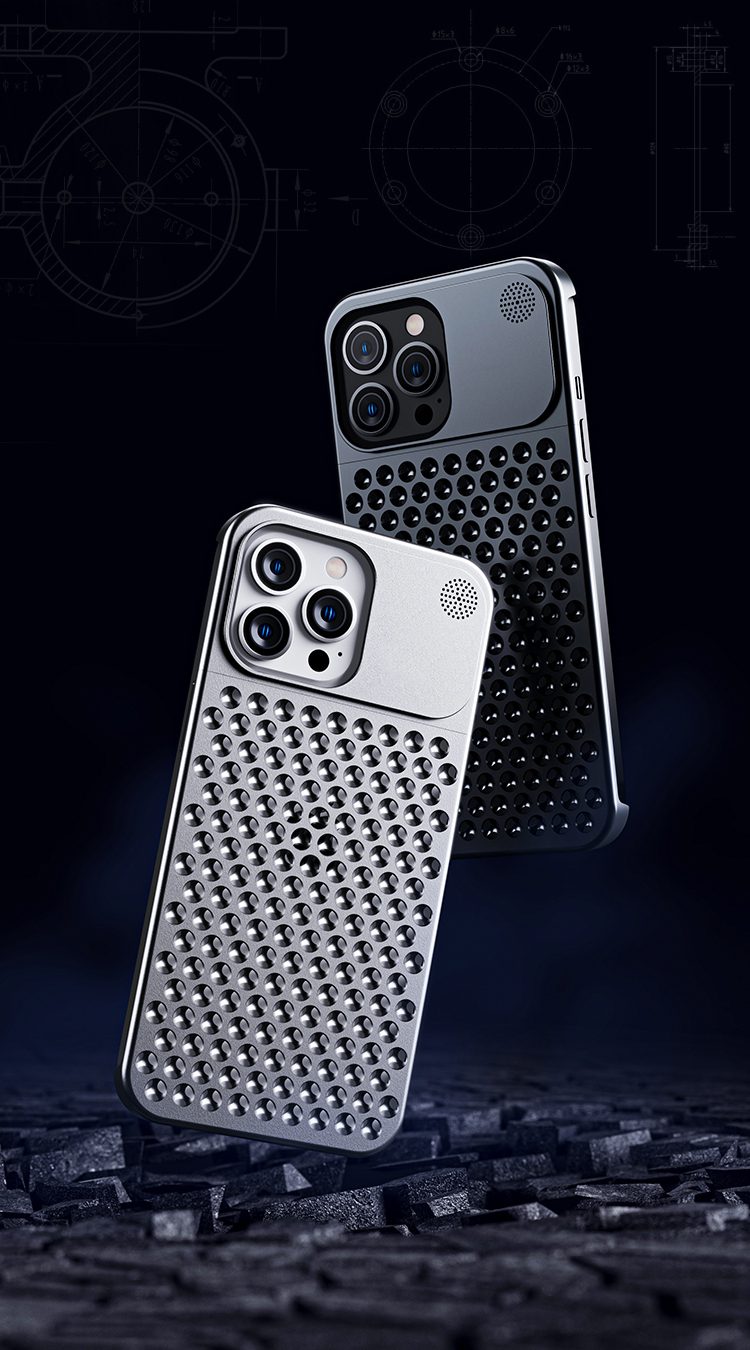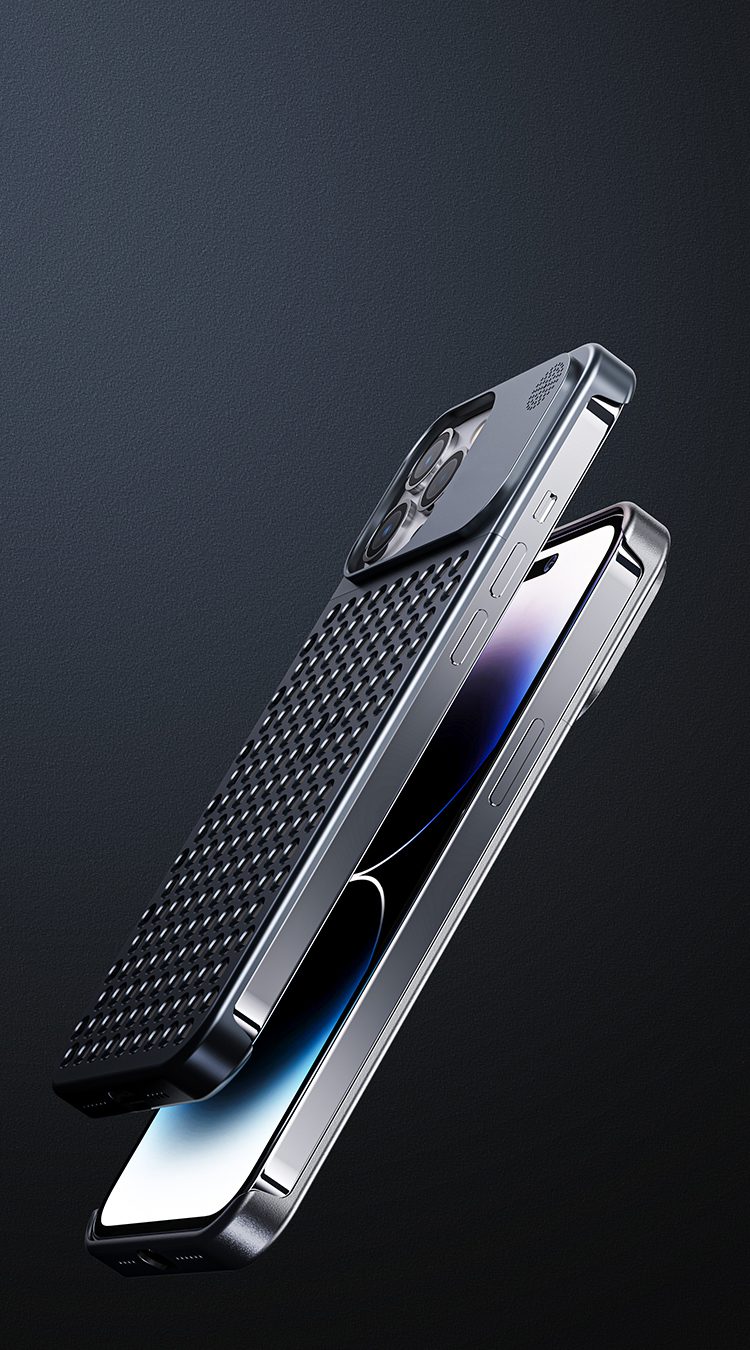 The Perfect Fusion of Style and Functionality
Introducing the Aluminum Alloy iPhone Case, a true masterpiece of design and innovation. Crafted to perfection, this case not only adds a touch of elegance to your iPhone but also offers a range of features that redefine your smartphone experience. From aromatherapy to heat dissipation, anti-fall protection to compatibility with a variety of iPhone models, this case is your ultimate companion for style and functionality.
Unveiling Unmatched Features
Aromatherapy at Your Fingertips
Experience a soothing and refreshing aroma every time you use your iPhone. The Aluminum Alloy iPhone Case comes equipped with a unique aromatherapy feature. Simply add a few drops of your favorite essential oil to the designated compartment, and let the delicate fragrance envelop your senses. Whether you're taking a call, browsing the web, or simply holding your phone, you'll enjoy a subtle aromatherapy experience like never before.
Efficient Heat Dissipation
Say goodbye to overheating worries with the advanced heat dissipation technology of this case. The aluminum alloy construction combined with strategic ventilation channels ensures that excess heat is effectively dispersed. This not only helps maintain your iPhone's optimal performance but also enhances its longevity. Keep your device cool even during extended usage and heavy tasks.
Protection Without Compromise
Anti-Fall Design
The Aluminum Alloy iPhone Case is designed to provide reliable protection against accidental drops and impacts. Its reinforced corners and sturdy construction work together to cushion your iPhone and minimize the risk of damage. Feel confident knowing that your precious device is shielded from potential falls and bumps.
Precision Engineering
This case is a perfect fit for various iPhone models, including Apple 13, 13 Pro, 13 Pro Max, 14, 14 Pro, and 14 Pro Max. The precision engineering ensures that your iPhone fits snugly and securely within the case, maintaining its slim profile while offering maximum protection.
Aesthetic Appeal and Functionality Combined
Elegance in Every Detail
The Aluminum Alloy iPhone Case doesn't just offer functionality—it's a style statement. The sleek and modern design adds a touch of elegance to your iPhone, enhancing its visual appeal without compromising its functionality. Elevate your iPhone experience with a case that truly reflects your sense of style.
Seamless Access
Enjoy seamless access to all your iPhone's features, including buttons, ports, and cameras. The case is designed to ensure that you can use your device without any hindrance. Experience the perfect blend of style and convenience.
Elevate Your iPhone Experience Today
A World of Possibilities
The Aluminum Alloy iPhone Case opens up a world of possibilities, combining aromatherapy, heat dissipation, anti-fall protection, and impeccable style. Elevate your iPhone experience to new heights and enjoy a case that caters to your every need.
Conclusion: Where Innovation Meets Style
The Aluminum Alloy iPhone Case is more than just a protective cover—it's a testament to innovation, style, and functionality. With its unique aromatherapy feature, efficient heat dissipation, anti-fall design, and compatibility with multiple iPhone models, this case stands as a symbol of excellence in smartphone accessories.
Invest in a case that enhances your iPhone experience on all fronts—an accessory that blends style, innovation, and functionality seamlessly.
---
FAQs
Is the aromatherapy feature safe for the iPhone? Yes, the aromatherapy feature is designed to be safe for the iPhone. The designated compartment prevents direct contact between the essential oil and the device.
Will the heat dissipation feature affect my iPhone's performance? No, the heat dissipation feature is designed to enhance your iPhone's performance by preventing overheating during heavy usage.
Does the case add bulk to the iPhone? No, the Aluminum Alloy iPhone Case is designed to maintain a slim profile while providing comprehensive protection.
Is this case compatible with wireless charging? Yes, the case is designed to work seamlessly with wireless charging, allowing you to charge your iPhone without removing the case.
FREE Shipping
Order Now to Avail Free Shipping Offer..!!